Overview
Beatrice has exhibited her fine artwork, film and installations in Hungary, Berlin, London and France.
Beatrice has taught drawing, offering group workshops and individual tuition. She has also owned and managed a gallery for more than 20 years.
Beatrice Lacey`s work investigates traces of being, where she considers the accidental mark left behind. A reminder of storytelling and ghosts, shadow self and things forgotten that the accidental mark making uncovers in its own visual code.
Using photography and painting as the basis of her work, she investigates the poetics of capturing the female-identified body, it's shadow and past. Photography captures the human body in motion - when confronted with a moving form, the camera generates incomplete images - Beatrice deliberately converts this innately damaged data into the form of prints, videos and paintings. As a result the works become spectral series that draw inspiration from older and past art genres.
The psychological underpinnings of Beatrice's work are based upon the artist's personal history and memoirs. In all her series, the human body is de-materialised, separated from the physical, and then re-materialised into a vastly altered form in her paintings.
All works can be viewed by appointment, at the Memorial Art Gallery in Hastings, please
contact Beatrice to enquir
e.
Selected Exhibitions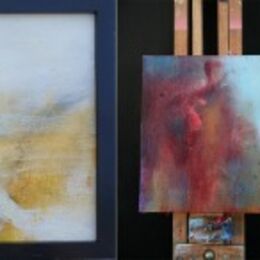 Nudo Di Donna
Nudo Di Donna 14th June to September 2022
The Glass Ceiling
2021
Hastings Art Forum, St Leonards on Sea
Group Show - Gaining Ground, Women Claiming Space
Solo Show
Date
Brixton Art Gallery, London
Description
Rye Society of Artists - Group Show
Date
Venue
Description
Solo Show
Date
Stables Theatre Hastings Art Gallery, Hastings
Description
The Pie Factory
Date
Hastings Museum and Art Gallery, Hastings
Group Show
Solo Show
Date
The Weekend Gallery Gallery, Hastings
Description
Solo Show
Date
The Memorial Art Gallery, Hastings
Description
Group Show
Date
The Margate Pie Factory, Margate
Description
Contra Punctal
2018
Stables Art Gallery ,Hastings
Two Artist Show
Salt Mother - Group Show
2018
Hodgson Loom Gallery, Isle of Man
Description
Kortars Muveszzeti Kozpont - Group Show
2017
Eger Botanic Art, Hungary
Description
Photo Fusion - Group Show
2013
Venue
Description
Body and Movement
2013
1066 Academy, Battle
Solo Show
Pure Autumn Art Fair
2012
Powdermills, Battle
Group Show - Pure Arts Group
6 by 12
2012
De La Warr Pavillion Project Space, Bexhill on Sea
Group Show
4 Play
2012
1066 Academy, Battle
Group Show